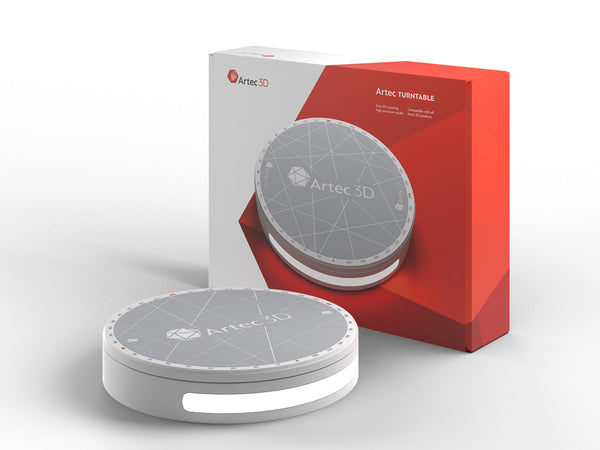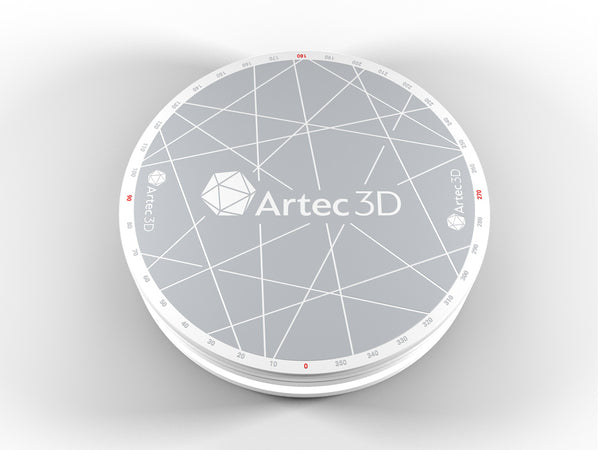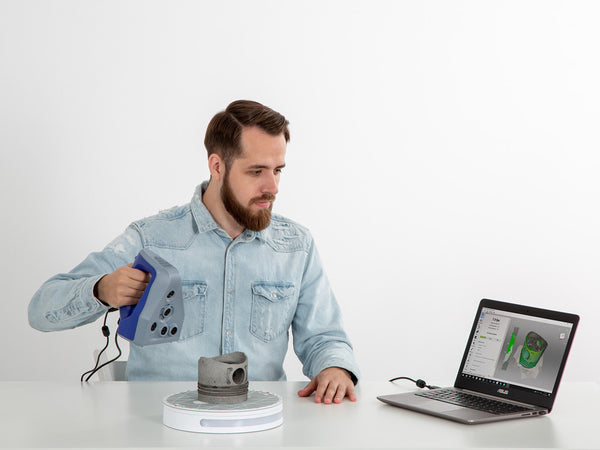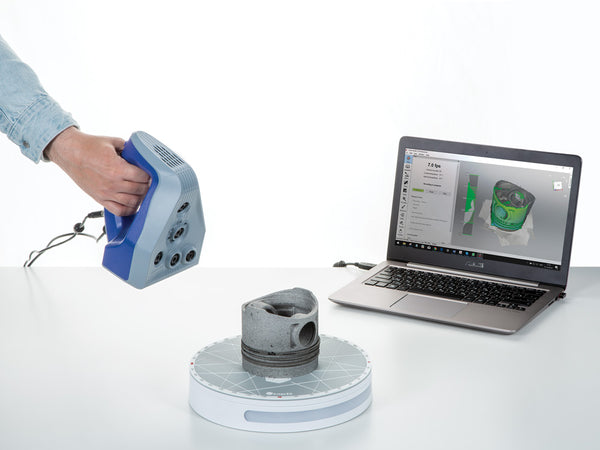 A Smart Turntable For Effortless 3D Scanning of Small Objects with Artec Space Spider.
Artec Turntable is a smart rotating platform that's fully automated and integrated with Artec Studio software. Powered by Bluetooth for out-of-the-box 3D scanning, it is the perfect companion for the ultra-resolution handheld 3D scanner Artec Space Spider.
How It Works
Its synchronized rotation system with auto-tracking recovery is designed to enable beautiful, full-coverage 3D scans of your small objects quickly and easily. If tracking is lost anytime during scanning, the platform simply pauses and turns back about 15 degrees, continuing once tracking has been regained. This way, you're ensured flawless digital captures every time!
Video Demonstrations
This is a video demonstration of the Artec Smart turntable. If you want a personalized online demo of the 3D scanner, please contact us for a demo.
Technical Specifications
Full Rotation: 13 seconds
Max Weight of Object: 3 kg
Compatible 3D Scanner: Artec Space Spider or Spider
Compatible 3D scanning software: Artec Studio 13 or newer
Connectivity: Bluetooth 4.0
Dimension: 250 x 250 x 45 mm
Weight: 0.72 kg
Power consumption: 12V, 4.66 W
Staff Picks: Guide to the Best 3D Scanning Accessories
We all know a little help goes a long way. When it comes to 3D scanning, there are times when it's difficult to scan challenging surfaces, fixture unstable parts, or get the work done more efficiently.
That's why we've enlisted the help of our staff to reveal some of the tried and true 3D scanning accessories we use in our lab. We'll also offer some tips and tricks to get you the best 3D scanning results. These accessories work for professional 3D scanners as well as low-cost 3D scanners.