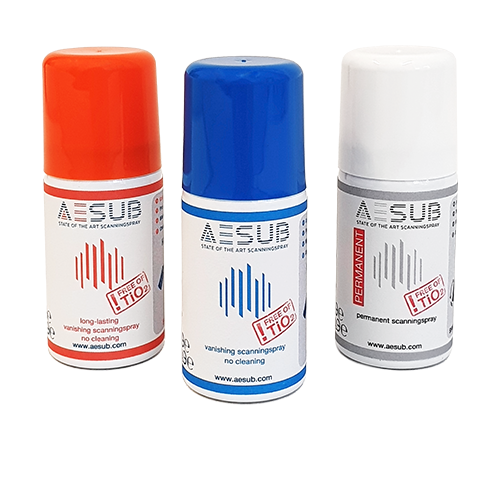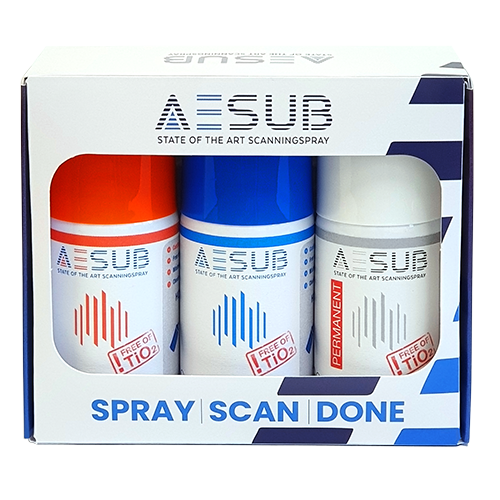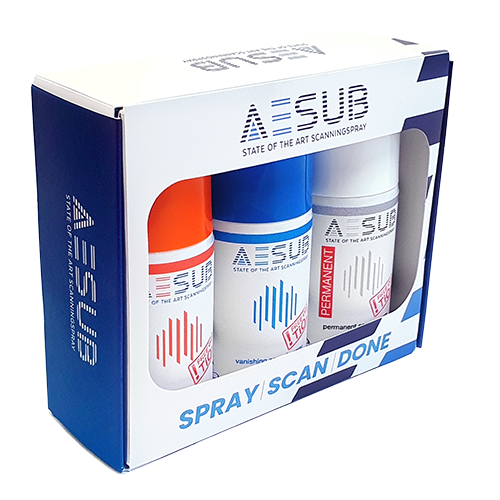 State-of-the-Art 3D Scanning Spray For Scanning Challenging Surfaces
* Currently available for shipping to the US only. 
* Limited to one sample pack per customer. (The samples are meant for testing the capabilities of what the different AESUB options can do for you. If you order more than 1 sample, we will restock the rest of the samples once the order is processed.)
🚚 AESUB SHIPPING IN THE USA | FREE GROUND SHIPPING ON ORDERS $100 AND MORE • ORDERS < $100: FLAT SHIPPING RATE $12.50 🚚
Want to try out the different AESUB 3D scanning sprays and see how they work on your projects? We now offer a sample size variety pack (AESUB Blue, AESUB White, and Orange) so you can test and see which one is right for you before purchasing the regular size aerosol can (400 ml).
Check out all AESUB 3D Scanning Sprays
Includes
Sample Size: 1 x 35ml of AESUB Blue
(Vanishing 3D scanning spray that disappears within a few hours - no cleanup required)
Sample Size: 1 x 35ml of AESUB White
(Permanent 

3D scanning spray - cleanup required)

Sample Size: 1 x 35ml of AESUB Orange
(Long-Lasting 3D scanning spray 

that disappears in ~12-24 hours

- no cleanup required)
Shipping (US region only)

Currently available for shipping to the US only
All AESUB products must be shipped via ground transportation
The shipping fee will be calculated upon checkout
Video Demonstrations

Getting Started Guides

AESUB Vanishing Sprays (Blue and Orange)
If it's your first time using AESUB vanishing 3D scanning sprays or if you want to learn more about best practices on how to use them, here are some helpful tips and tricks to get you up and running in no time!
AESUB Semi-Permanent Spray (White)
Here is an overview on how to use AESUB White 3D scanning spray. It's a semi-permanent coating that can be cleaned easily after your project is complete. What makes it special? All AESUB products are 100% free of titanium dioxide nano particles (TiO2).
More Information

For more information on AESUB products, please visit our product page.