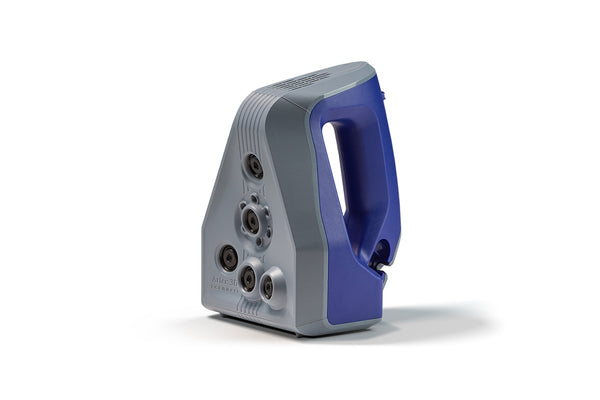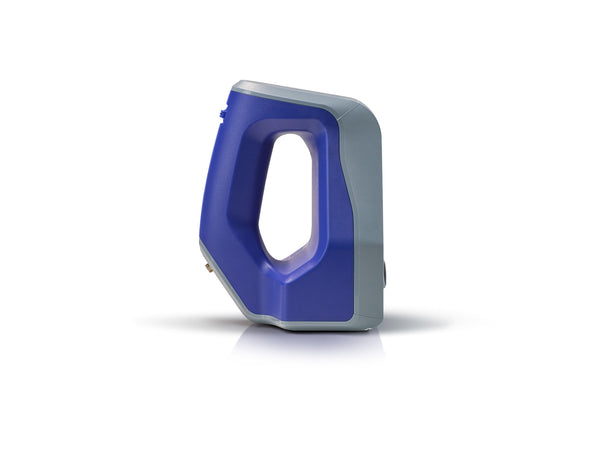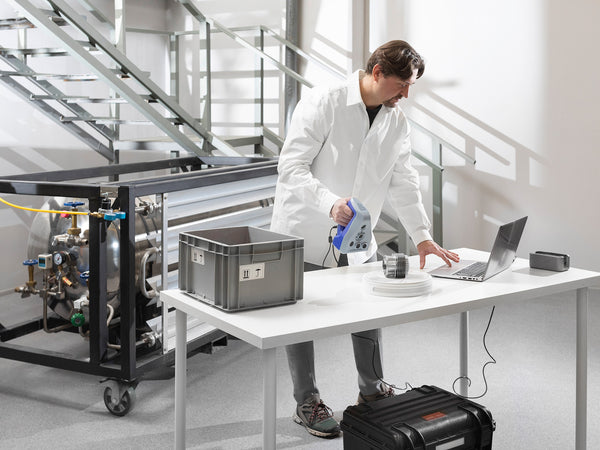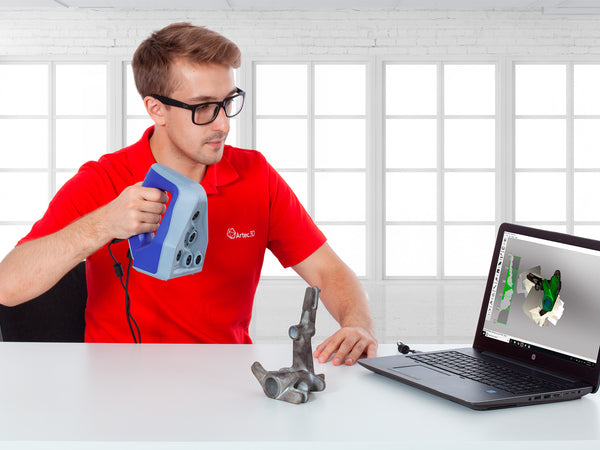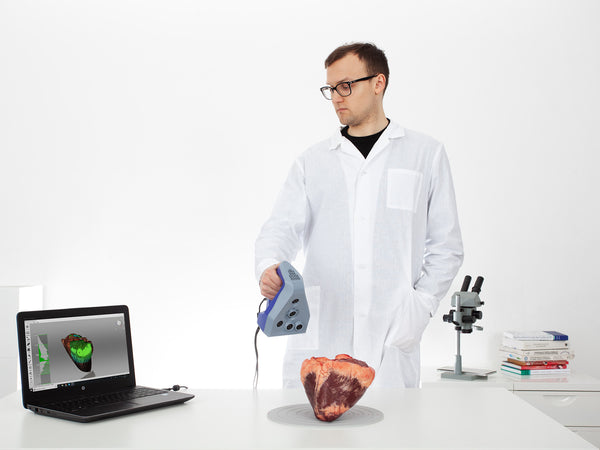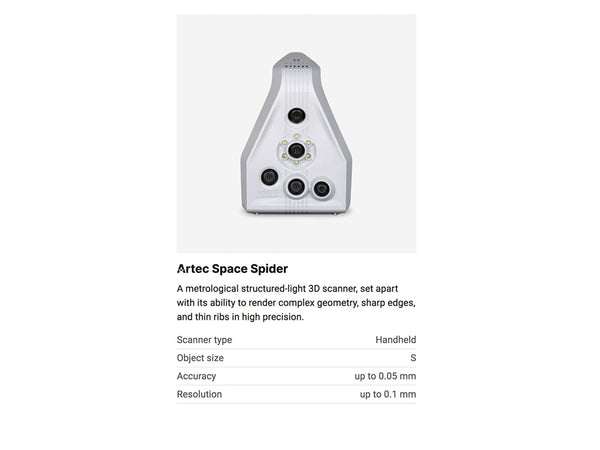 Metrology Grade Handheld 3D Scanner With Accurate and Repeatable Results
Perfect for capturing small objects for CAD applications, quality inspection, and more
User-friendly portable 3D scanner
Handheld 3D scanner
Make fast, high-quality scans of any object
No need for targets or calibration
Just point and shoot
Hybrid geometry and texture-based capture (ability to capture the color of an object)
* Price listed is the Manufacturer's Suggested Retail Price (MSRP).
* Please feel free to contact us to see if you qualify for special discounts or promotions.
Book A Demo With Us
Instantly book an online demo with us using
our calendar
.
For more information on this product, please reach out to us at (434) 946-9125 or email us at
sales@gomeasure3d.com
.
An enhanced precision instrument for CAD users and engineers, Artec Space Spider is a high-resolution 3D scanner based on blue light technology. It is perfect for capturing small objects or intricate details of large industrial objects in high resolution, with steadfast accuracy and brilliant color.
The scanner's ability to render complex geometry, sharp edges, and thin ribs sets this technology apart. It is an ideal industrial 3D scanner for high-resolution capture of objects such as molding parts, PCBs, keys, coins, and even a human ear.
Why Choose Us?

GoMeasure3D is both a Gold Certified authorized Artec reseller and the first to be an Artec Ambassador partner in the USA.
We've been in business for 20+ years. Our team has many years of knowledge and experience using their hardware and software. We have all the Artec 3D scanners readily available at our office to provide you with a demo—in our office, at your location, or virtually in real-time on your computer. 

Video Demonstrations

If you want a personalized online demo of the Artec Space Spider 3D scanner, please contact us for a demo.
Scan Samples
How The Artec Space Spider Gets Accurate Results Every Time

How does the Artec Space Spider get such a high accuracy for a handheld 3D scanner? The system features powerful temperature stabilization and high-grade electronics. It reaches maximum accuracy in just three minutes. This measure ensures long-term repeatability in 3D data capture while the accuracy rate of the device is not affected by fluctuations in the environment.
Technical Specifications
Type: handheld 3D scanner
3D Point Accuracy: 0.05 mm
3D Resolution: 0.1 mm
3D Accuracy Over Distance: 0.05 mm + 0.3 mm/m
Hybrid geometry and texture tracking: Yes (color capture)
Data Processing Algorithm: Geometry and texture based
Data acquisition speed (up to): 1 million points/second
Made in: Luxembourg
Brochures

Why Buy an Artec 3D Scanner?

Artec continues to be at the forefront of 3D scanning development with new innovations coming out every year that pushes the technology to new heights. With an impressive list of new items rolled out every year, here are the top reasons why you should invest in an Artec 3D scanner.
More Information
For more information on Artec Space Spider, please visit our product page on our main GoMeasure3D website.