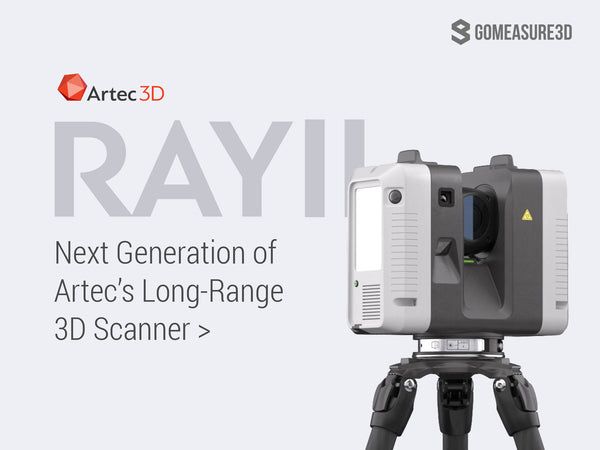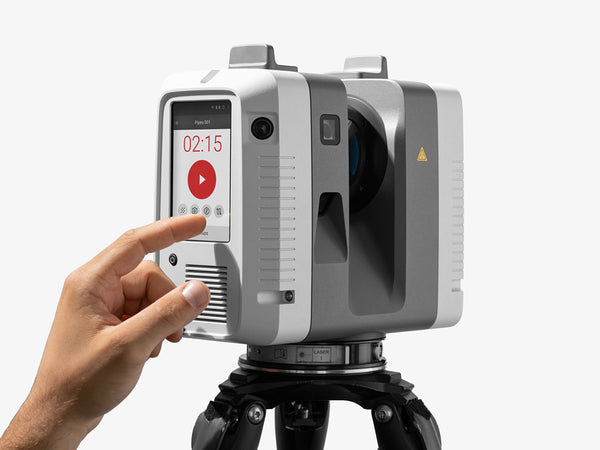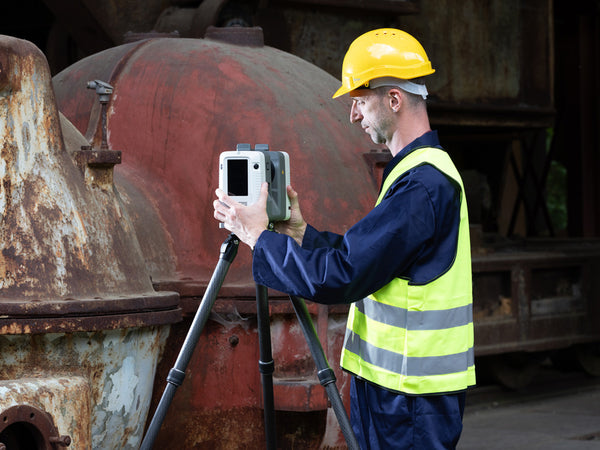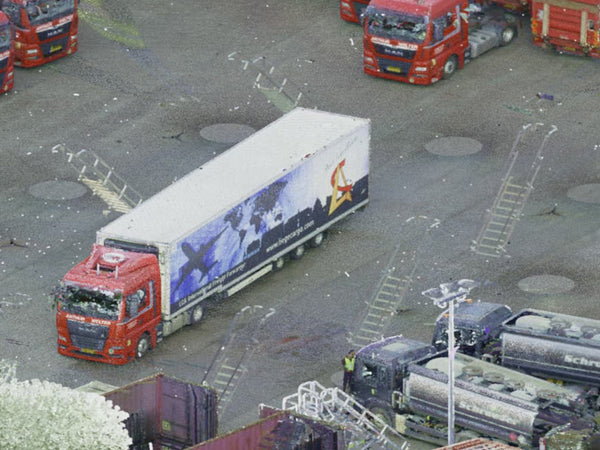 Lightning-Fast Long-Range 3D Scanner With High Accuracy 3D Imaging
The Artec Ray II laser 3D scanner captures large to massive objects, scenes, or areas quickly and precisely from up to 130 m away. The LIDAR system delivers 3D point accuracy that meets high professional standards and best-in-angular-class accuracy.
user-friendly portable 3D scanner
has a built-in touchscreen and intuitive UI for easy 3D scanning
equipped with automated targetless field registration
real-time scan alignment
a double-scan feature for the automatic deletion of moving objects
ready for 3D scanning large objects or environments indoor and outdoor
has a touchscreen and mobile device interface
rain and dust protection (IP54)
* Price listed is the Manufacturer's Suggested Retail Price (MSRP).
* Please feel free to contact us to see if you qualify for special discounts or promotions.
Book A Demo With Us
Instantly book an online demo with us using
our calendar
.
For more information on this product, please reach out to us at (434) 946-9125 or email us at
sales@gomeasure3d.com
.
Why Choose Us?
GoMeasure3D is both a Gold Certified authorized Artec reseller and the first to be an Artec Ambassador partner in the USA.
We've been in business for 20+ years. Our team has many years of knowledge and experience using their hardware and software. We have all the Artec 3D scanners readily available at our office to provide you with a demo—in our office, at your location, or virtually in real-time on your computer. 

Features

Lightweight + Portability: Super easy to take anywhere you need: vehicles can be captured in minutes, aircraft, and full-sized buildings in just a few hours.
Remote Scanning: When scanning something large, in an inaccessible location, or at a height you can't safely be on, control your scanner easily and from a distance with the Artec Remote App.
Real-Time On-Board Registration: Track the scanner's movement in real-time with feature tracking and advanced algorithms for intuitive 3D-space navigation including Ray II's Visual Inertial System (VIS), Altimeter, compass, and Global Navigation Satellite System.
Automatic Removal of Moving Objects: Artec Ray II's smart auto-removal of moving objects that may enter or exit the scene keeps all captured data focused on exactly what you need.
Continuous Battery Supply: Powered by two hot-swappable batteries and another two on standby, the 3D laser scanner Ray II comes ready to scan for a full 8 hours. Need more time? Charge while you scan, and swap without any downtime.
Water and dust protection with IP54 (IEC 60529): Your 3D scanner is protected and your work is kept safe with the Artec Ray II's water and dust protection, designed to keep particles or humidity from getting into your device.
Applications and Industries
Artec Ray II precisely captures large to massive objects, scenes, or areas such as:
Buildings
Bridges
Factories to retrofit conveyor line setup
Boats / Ship propellers
Large industrial equipment
Wind turbines
Airplanes
Forensic / Crime scenes
Archeology sites
Mining sites
Perfect for industries including:
Aerospace: Harnessing Artec Ray II's power to capture up to 2 million points per second, now engineers can streamline aircraft inspection, design, development, and testing for faster, safer, and more fuel-efficient flights.
Automotive: Taking just minutes to capture mechanical and irregular shapes and surfaces while detecting hard-to-find imperfections, the Artec Ray II gives automotive specialists high-resolution point clouds for inspections, crash testing, design optimization, and more.
3D Visualization: Ideal for digital twin creation of interior and exterior environments, the Artec Ray II scanner offers industry-class accuracy, speed, and ease of use for capturing surface data throughout the entire object lifecycle.
Quality Inspection: Manufacturers and their clients can confidently detect defects and irregularities, accelerating production processes while ensuring the highest product quality control levels.
Reverse Engineering: When paired with Artec Studio's scan-to-CAD functionality, Artec Ray II stands out among all 3D laser scanners to deliver detail-rich, high-quality scans that expedite reverse engineering workflows with unrivaled, metrology-grade precision.
Industrial Design and Manufacturing: Unveiling a wealth of 3D detail, the portable Ray II empowers designers and engineers to refine CAD projects, streamlining prototyping and design processes for large objects and machinery.
Cultural & Heritage Preservation: Digitally safeguard priceless historical sites and objects with the Ray II, while enabling regular inspections and the power to transform scans into breathtaking 3D models for virtual exhibitions.
Civil Engineering: The Artec Ray II takes infrastructure inspection and design up to the next level, capturing structures with world-class precision and speed, improving driving safety and resilience in construction and maintenance of roads, bridges, wind turbines, tunnels, dams, and more.
AR/VR/XR: Leverage ultra-realistic 3D models for the creation of interactive environments.
Video Demonstration

If you want a personalized online demo of the Artec Ray II 3D scanner, please contact us for a demo.
Scan Sample
Artec Ray II long-range 3D scanner detects even the smallest surface irregularities with Ray II's 36 MP 3-camera system, with exceptional HDR texture.
Capture large areas with detail with Artec's unbeatable duo of smart, wireless scanners: Artec Ray II's range and speed for full scenes and large objects (white pipes) and the handheld Artec Leo for specific areas and angles (orange pipes). The long-range Ray II also integrates well with all other Artec 3D scanners in seconds.
Technical Specifications
Type: long-range 3D scanner
Scanning range: 0.5 — 130 m
Speed: Capture a full dome at the highest resolution in 1.7 mins
Resolution: 3 mm at 10 meters
Color: Scan in full color with 36 MP 3-camera system
3D point accuracy @10m: 1.9 mm
3D point accuracy @20m: 2.9 mm
3D point accuracy @40m: 5.3 mm
Angular accuracy: 0.87 mm @10m (or 18")
Range accuracy: 1.0 mm + 10 ppm
Range noise: 0.4 mm @ 10m - 0.5mm @ 20m
Brochures

Why Buy an Artec 3D Scanner?

Artec continues to be at the forefront of 3D scanning development with new innovations coming out every year that pushes the technology to new heights. With an impressive list of new items rolled out every year, here are the top reasons why you should invest in an Artec 3D scanner.
More Information
For more information on Artec Leo, please visit our product page on our main GoMeasure3D website.