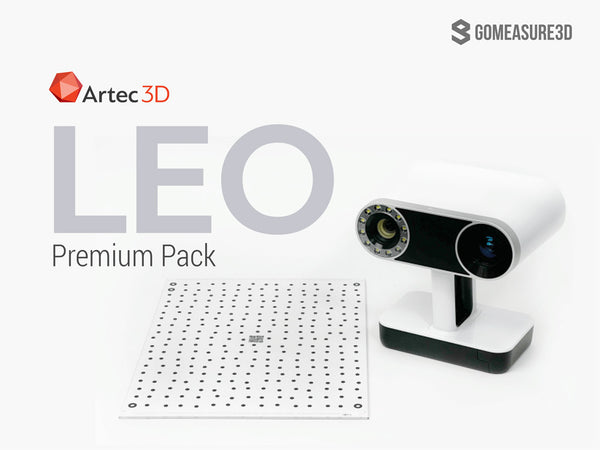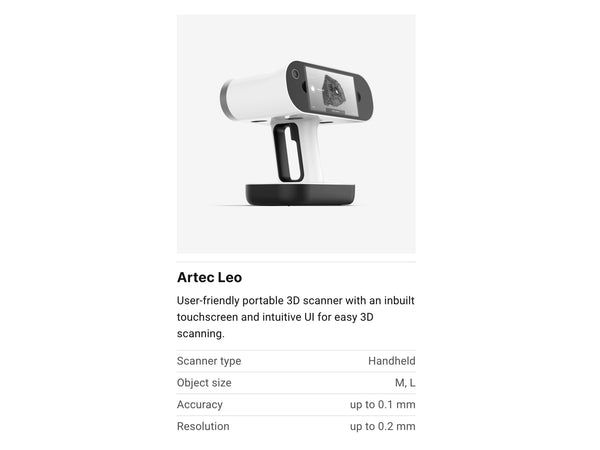 Artec Leo Trade-In Promotion
Do you have a 3D scanner you've been wanting to upgrade and just waiting for the right time? Now is the chance! Get $5,000 off a new Artec Leo handheld 3D scanner when you trade in your existing 3D scanning device—available for a limited time. The offer ends December 29, 2023.
For more details on the promotion, please visit our blog article.
---
The ultimate 3D scanner solution that includes everything you need to get started on 3D scanning with an extended service warranty + software subscription, and more.
Artec Leo 3D scanner
Artec Leo calibration kit
Battery x 2
Battery charger
Warranty – 5 years
Artec Care – 5 years
Artec Studio – subscription for 5 years
* Price listed is the Manufacturer's Suggested Retail Price (MSRP).
* Please feel free to contact us to see if you qualify for special discounts or promotions.
Book A Demo With Us
Instantly book an online demo with us using
our calendar
.
For more information on this product, please reach out to us at (434) 946-9125 or email us at
sales@gomeasure3d.com
.
About the Artec Leo

Artec Leo is the world's first wireless and AI-based 3D scanner to offer onboard real-time processing. This system can capture objects in 3D without the need for a computer or a tablet during the 3D capturing process. With the most intuitive workflow, it makes 3D scanning as easy as taking a video.
User-friendly portable 3D scanner
Has a built-in touchscreen and intuitive UI for easy 3D scanning
Handheld 3D scanner
Make fast, high-quality scans of any object
No need for targets or calibration
Just point and shoot
Hybrid geometry and texture-based capture (ability to capture the color of an object)
AI‑powered HD Mode for 2x greater resolution than standard mode
Why Choose Us?

GoMeasure3D is both a Gold Certified authorized Artec reseller and the first to be an Artec Ambassador partner in the USA.
We've been in business for 20+ years. Our team has many years of knowledge and experience using their hardware and software. We have all the Artec 3D scanners readily available at our office to provide you with a demo—in our office, at your location, or virtually in real-time on your computer. 

Video Demonstrations

If you want a personalized online demo of the Artec Leo 3D scanner, please contact us for a demo.
Scan Samples
HD Mode
With the power of AI, Artec unleashes a new level of what the Artec Leo and Eva 3D scanners can achieve. The new set of AI-powered algorithms in Artec Studio 3D scanning software is now better at understanding the scene it's scanning. It's also processing the information to output higher-quality scan data with the same hardware.
The result: The remastered 3D model is a deeper and richer representation of the scanned object.
The HD mode delivers stunning, sharp 3D scans with a resolution of up to 0.2 mm. That's more than 2x the resolution with the new HD mode! Your results will be denser quality 3D scan data.

Artec's new AI engine delivers minimal noise in the raw data. The HD mode makes it easy for the user. Get amazing results and let Artec AI do all the hard work for you. You save post-processing time which can often be tedious and time-consuming work.

Artec Leo or Eva 3D scanner with HD Mode is even now more versatile with its ability to capture a wide range of objects that weren't possible before.

Smaller objects:

 

Produces scans with greater complexity in detail
Larger areas:

 

Big objects with intricate detail
Technical Specifications
Type: handheld 3D scanner
3D Point Accuracy: 0.1 mm
3D Resolution: 0.2 mm
3D Accuracy Over Distance: 0.1 mm + 0.3 mm/m
HD Mode: Yes
Hybrid geometry and texture tracking: Yes (color capture)
Data Processing Algorithm: Geometry and texture based
Data acquisition speed (up to): 35 million points/second
Made in: Luxembourg
Brochures

Why Buy an Artec 3D Scanner?

Artec continues to be at the forefront of 3D scanning development with new innovations coming out every year that pushes the technology to new heights. With an impressive list of new items rolled out every year, here are the top reasons why you should invest in an Artec 3D scanner.
More Information
For more information on Artec Leo, please visit our product page on our main GoMeasure3D website.