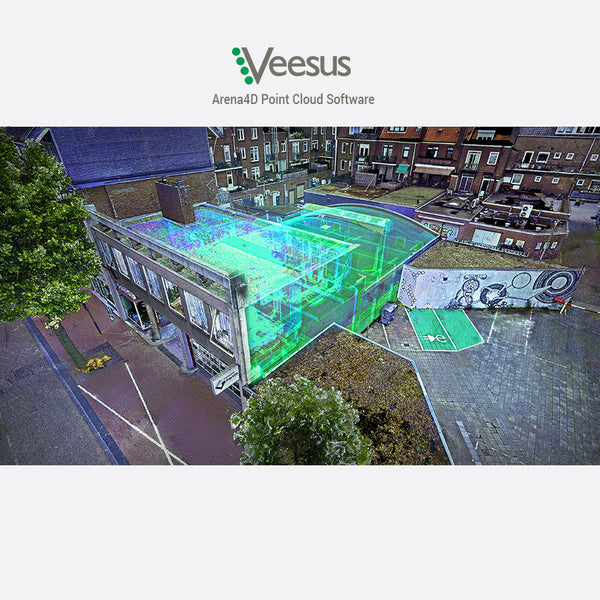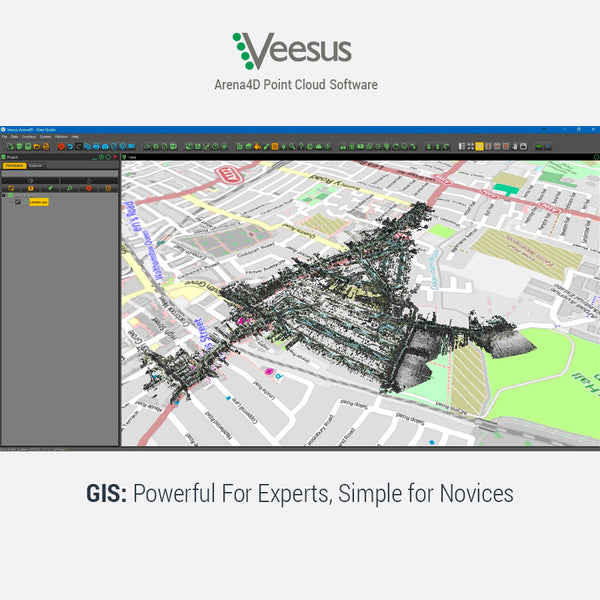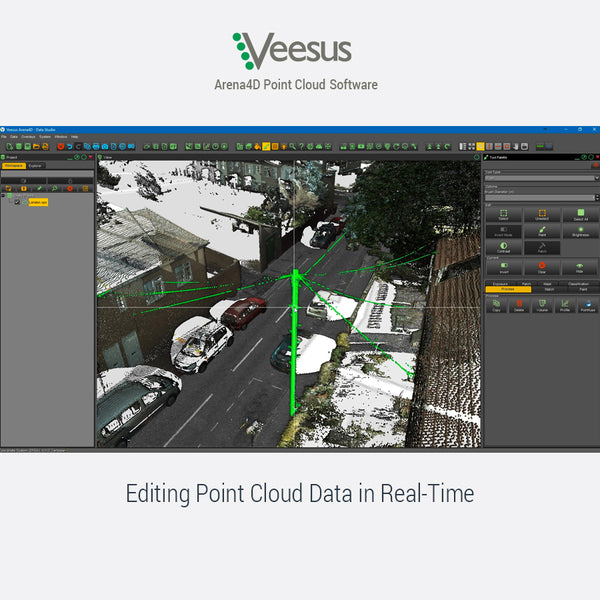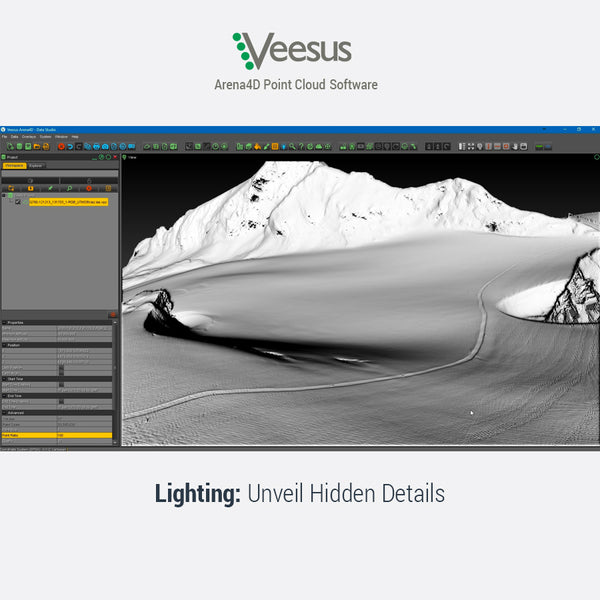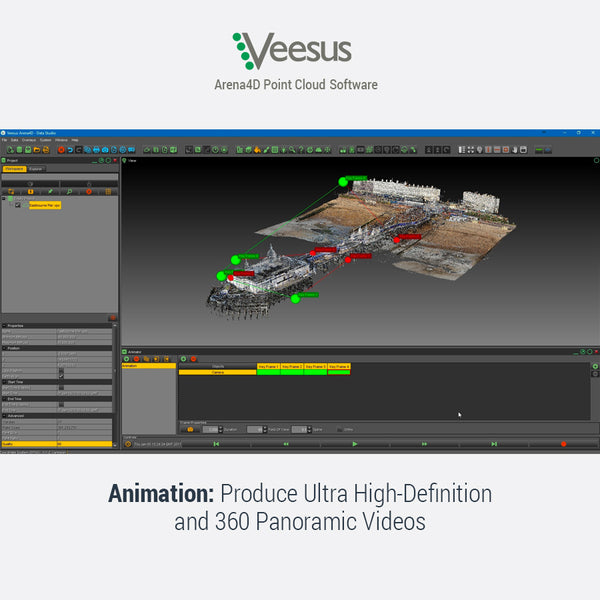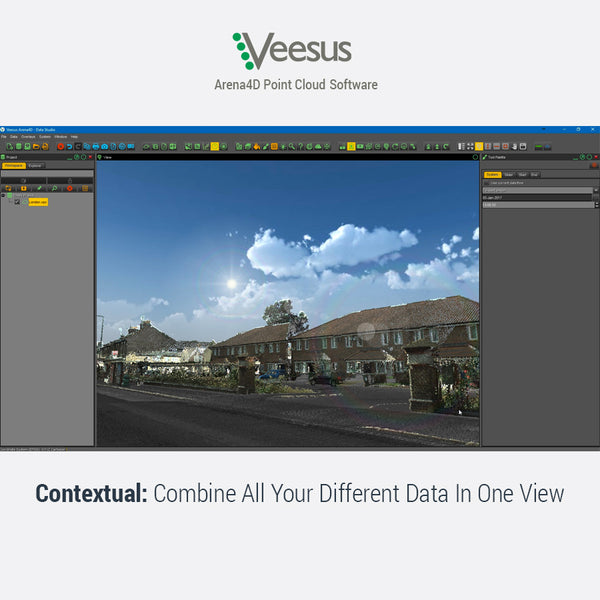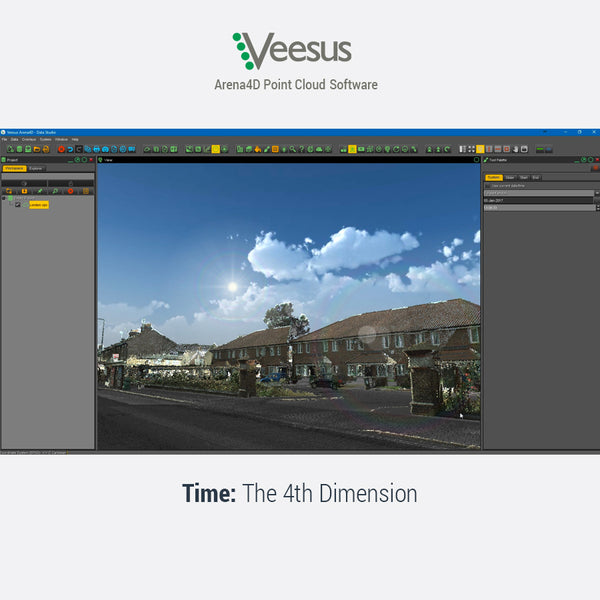 Standalone software for high-speed displaying and editing of massive point cloud data sets. Works great with Lidar / Long-range 3D scanner scan data for visualization, editing, and analysis.
Arena4D is industry-leading point cloud visualization and editing software. Powered by XStreamEngine, Arena4D is capable of displaying and editing massive point cloud data sets on standard PC hardware, making it easier and cheaper for you to work with point cloud data. You can also generate ultra-HD-quality movies of your point clouds at the touch of a button, including 360 panoramic videos.
Arena4D also features a unique GIS platform that enables you to combine multiple different datasets alongside point clouds, including imagery, panoramas, shape files, GPS tracks, and much more! This gives you a complete 3D document showing you all your data in a single contextual view, which can be shared with other Arena4D users.
What's New with Veesus
A Veesus software license now includes the following licenses:
Highlights

Markup, annotate, measure, and edit your point clouds on standard PC hardware.
Export point clouds in common formats for use in other software packages.
Animate point cloud data to produce UHD videos and 360 panoramic videos.
Combine point cloud and other GIS data into a single view.
Display point clouds of any size and density together with related photogrammetry, audio, and other project deliverables.
Create stunning fly-through videos, with the unique ability to animate objects and point cloud data.
Enhance and optimize point clouds using powerful editing tools.
Visualize point cloud and BIM data in real-time virtual reality.
Instantly access and use point clouds saved to the Zappcha Cloud to work on projects anywhere, anytime.
Features

Cloud Editing: You can edit, clean, and refine point clouds of massive size and create 250 LAS layers.

Panoramas: Powerful solution for enabling panoramic imagery to be viewed in isolation or added to your project containing other data.
Virtual Reality: Takes the visualization experience of point cloud data and any other data in your scene to the next level.
Animation: You can produce Ultra High Definition (4K) videos and animations of your point cloud projects.
Forensics: Provides a functionality rich software tool that has been specifically designed in collaboration with Forensic Police teams across the world.
Geospatial: Enables a Geographic Information System (GIS) user interface that can be used to give complete contextual location understanding, by providing mapping, terrain information, sun position, and satellite imagery.
Security: Protecting shared point cloud data is important or securing ownership of your data. The Security function for Arena4D provides this protection.
Tracking: Provides the ability to receive and display live feed from remote devices.
Powerful Point Cloud Editing

Edit, clean and refine Point Clouds of massive size and create LAS layers using the powerful point cloud Editing function.
Included in Arena4D Standard and Professional.
Selection Tools: 3D Brush, Poly Line, Rectangle, Plane, Select All and Invert Selection.
Edit Tools: Copy, Delete, Hide and Copy + Delete. 
Paint Points: Colour, Intensity, Brightness and Contract.
Create Points: Patch a hole in your point cloud.
Match Points: Match and select Points of a specific colour and/or intensity.
Surface Profiler: Identifies deviations in a selected plane.
Volume: Calculate the volume of selected points.
LAS Classification: Classify your PointCloud Data in order to create up to 50 layers within a single file.
Why Buy Arena4D Point Cloud Software?

Easy and powerful: Simple but rich user interface.
Edit: Cut, copy, patch, and paint your point cloud data. Register multiple clouds together.
Animate: Create professional-quality complex animations of all your data, not just point clouds.
Share: Show off your data in high-definition video, high-resolution images, or a full project within a simple executable.
No limit: View massive point clouds with ease. A powerful point cloud engine allows you to work in real-time on all data sets without constraint or compromise.
Contextual: Add data types from many sources to create a rich understandable 3D scene.
Proven: Thousands of users have used Arena4D.
Constant Development: Arena4D is growing in functionality all of the time.
Cutting-edge: Veesus devotes time to researching, exploring, and applying cutting-edge technology for various industry applications that can benefit from visualizing, editing, and analyzing enormous point cloud data.
Zappcha: New Cloud Storage and Mobile Capture Solution For Point Clouds

Arena4D now integrates with Zappcha, the new cloud storage and mobile capture solution for point clouds. Arena4D users have the option to save and load point cloud files from their Zappcha Cloud account, giving them instant access to their point cloud data from anywhere in the world.
Zappcha allows mobile phone and tablet (currently iPhone 12 pro and up, iPad Pro) LIDAR scanning using the free Zappcha software.
Brochure

Case Studies

An animation of the same house created using Arena4D, showing a vertical section of the structure. Fly-throughs like these are impressing Terra Measurement's clients every day.
Point cloud data taken from a church in Oostelbeers, The Netherlands, as part of a project to repurpose the building. You can see incredible detail generated by Veesus Arena4D animations.
A stunning visualisation of WW2 bunkers on Terschelling island. The animation overlays point clouds of both the exterior and interior of the bunkers, showing an incredible level of detail into a fascinating historical monument.
VR Support

Arena4D includes NCTech's Measurement module and also supports the latest VR developments with stunning immersive 3D reality on Oculus Rift and HTC Vive platforms.
System Requirements

OS: Microsoft Windows (64 bit)
CPU: 2.0GHZ Dual Core
GPU: 1GB, OpenGL 2.0 Compliant
RAM: 2GB
HDD: 100MB (for installation)
For best performance, we recommend a quad-core processor, 8GB RAM an nVidia/AMD GPU, and an SSD disk drive.
Video Demonstrations

Educational License
Educational prices are available upon request. Please contact us for pricing.
Evidence of academic affiliation, Student Card, Employment certificate, or similar is required. Educational license is not for commercial use.
Support Documents