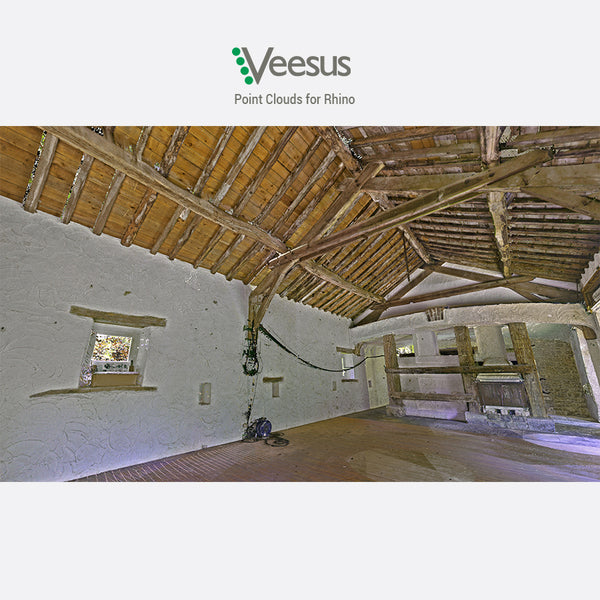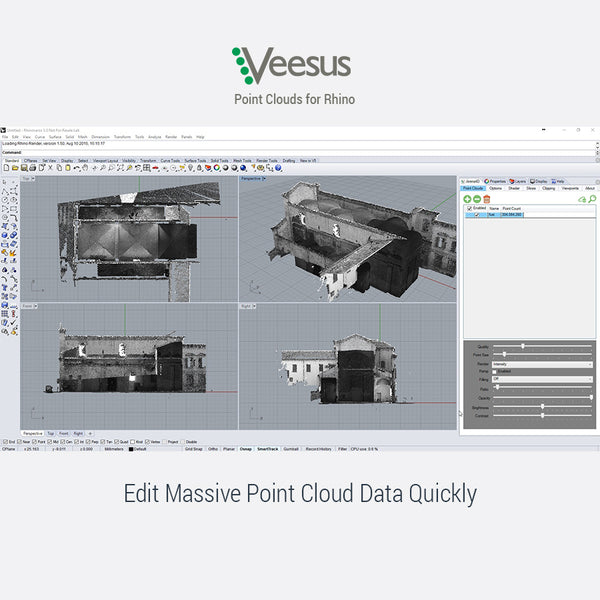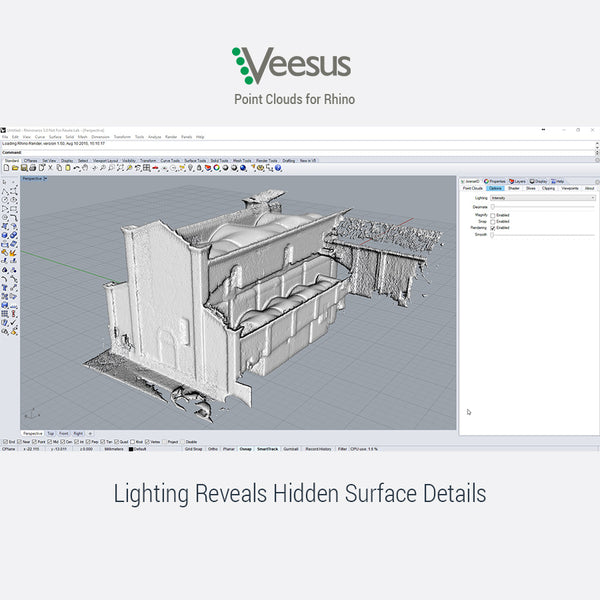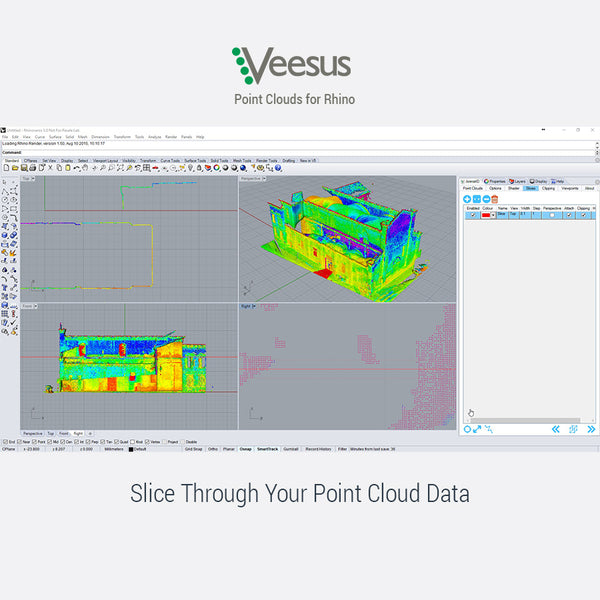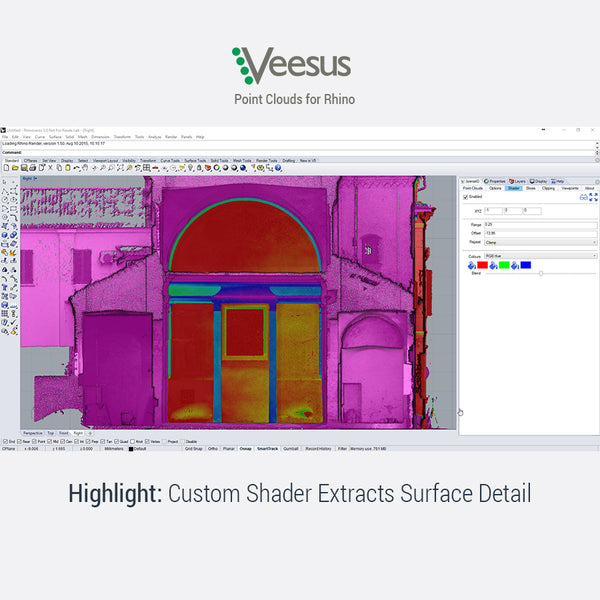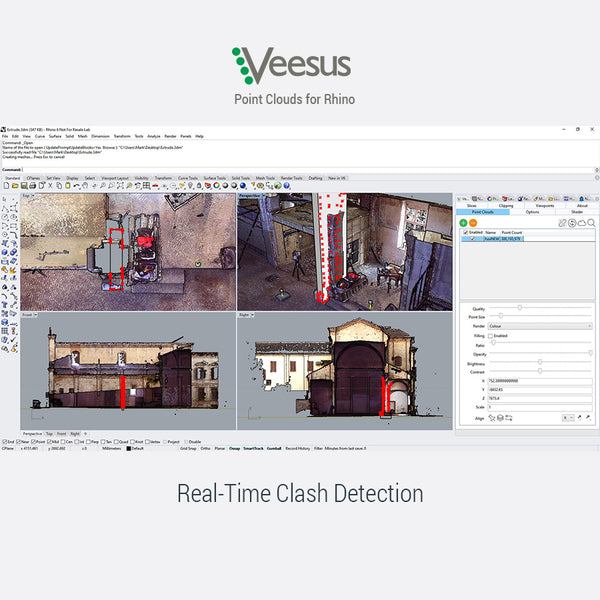 Plug-in for Rhino that empowers you to edit massive point cloud data natively in Rhino CAD modeling software
Veesus Point Clouds for Rhino plug-in brings the power of Veesus' XStreamEngine to McNeel's Rhino CAD modeling software, allowing you to work with point clouds of any size natively in the Rhino environment.
Once the point cloud has been loaded into the Rhino environment, Veesus Point Clouds for Rhino also offers powerful point cloud manipulation tools including slicing, clipping, smoothing, lighting, magnification, color ramp, and export.
What's New with Veesus
A Veesus software license now includes the following licenses:
Highlights

Slice, clip, copy, delete, smooth, and light your point cloud data effortlessly, without the need for additional tools. Reduce the need for rework and site visits with powerful clash detection features.
Unlimited Point Clouds: A powerful point cloud engine allows you to work in real-time on all data sets without constraint or compromise.
Slice: Extract geometric features such as 2D lines, arcs, and circles.
Clip: Select, duplicate or hide areas of point cloud data.
Shader: Highlight subtle features with a programmable shader.
Export: Output sections of point clouds to the Rhino point cloud format or plain text.
Features

Massive Point Clouds
Stream Points Clouds from remote Veesus Point Server
Slice through Point Clouds
Generate Slice from Rhino Plane
Generate Rhino Plane from Slice
Draw Points, Lines, and Polylines straight onto the Point Cloud data
Align, move and rotate Point Clouds
Adjust brightness & contrast of Point Clouds
Apply dynamic lighting to Point Clouds
Apply transparency to Point Clouds
Apply programmable "relief" shader to Point Clouds
Clip and hide selections of Point Clouds
Renderer
Copy selections
Delete selections
Create plane through selections
Create CSV report of point distances from a plane
Clash Detection
Rhino Software Compatibility
Veesus Points Clouds for Rhino is currently available for Rhino 5, Rhino 6, and Rhino 7. 
Why Buy Veesus Point Clouds for Rhino?
Unique: It's the only point cloud plug-in for Rhino.
Work with large point cloud data: Import and work with point clouds of massive size with no issues without needing to invest in specialist equipment. Work with point clouds in the native Rhino environment – no more time-consuming workarounds to use your scan data. 
Constantly updated with improvements: Working with customers to constantly improve the product.
Powerful: Incorporates the Veesus XStreamEngine.
Proven: Thousands of users have Veesus Point Clouds for Rhino.
Easy to Use: Simple user interface, with powerful features.
Instantly access and use point clouds saved to the Zappcha Cloud to work on projects anywhere, anytime.
What Is Veesus XStreamEngine?
The heart of Veesus' software is the XStreamEngine, which enables Veesus to display and edit massive point clouds on standard PC hardware. This engine powers all Veesus software.
Zappcha
Veesus Point Clouds for Rhino integrates with Zappcha, the new cloud storage and mobile capture solution for point clouds. Rhino users have the option to load point cloud files directly from their Zappcha Cloud account, giving them instant access to point cloud data saved to the cloud – including point clouds captured on the latest Apple mobile devices. 
Zappcha allows mobile phone and tablet (currently iPhone 12 pro and up, iPad Pro) LIDAR scanning using the free Zappcha software.
Brochure

Case Studies

Point cloud of the space in BPL's plant where Courts Engineering custom-built a platform to take a 37-ton machine. The machine and the platform were lowered through the roof to fit precisely among the pipe network.
System Requirements

OS - Microsoft Windows (64 bit)
CPU - 2.0GHZ Dual Core
GPU - 1GB, OpenGL 2.0 Compliant
RAM - 2GB HDD - 100MB (for installation)
For best performance we recommend a quad core processor, 8GB RAM an nVidia/AMD GPU and an SSD disk drive.
Note:

 

It is important to ensure you have the latest up to date graphics card drivers installed, and that in a dual GPU configuration (typically laptops) that the more powerful, non-integrated, GPU is used.

Video Demonstrations
Educational License
Educational prices are available upon request. Please contact us for pricing.
Evidence of academic affiliation, Student Card, Employment certificate, or similar is required. Educational license is not for commercial use.
Support Documents