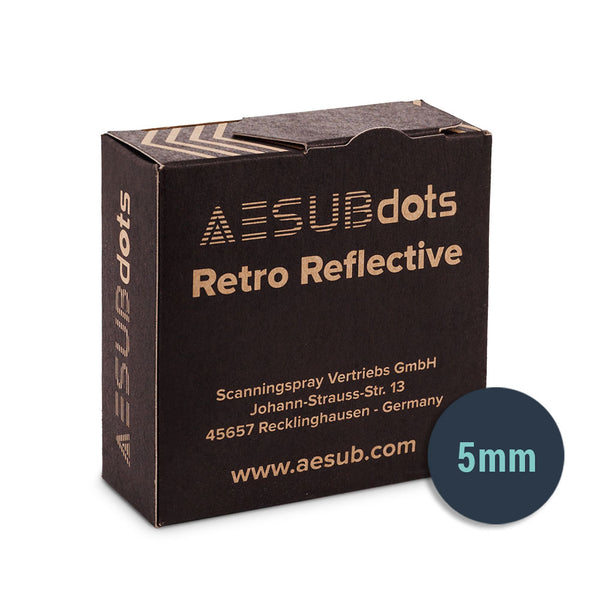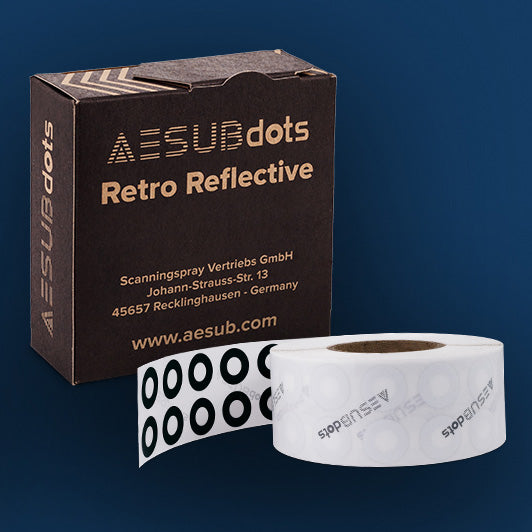 This listing is for AESUB Dots Retro Reflective (also known as AESUBdots Retro Reflective) 5mm. 
Retroreflective permanent reference targets for laser light scanners
Strong adhesive effect

Coiled on roll
Tear perforation every 20 – 30 cm
Perfect for application on all AESUB vanishing

 3D scanning 

sprays
🚚 AESUB SHIPPING IN THE USA (Dots & 3D Scanning Sprays) 🚚
FREE GROUND SHIPPING ON ORDERS $100 AND MORE
 ORDERS < $100: FLAT SHIPPING RATE $12.50 
* Currently available for shipping to the US only via ground transportation.
Why use reference dots for 3D scanning?
When you're scanning an object in 3D, adding markers to the object or at a close distance ensures you get more accurate and repeatable 3D scanning results compared to not using them. Using markers helps the 3D scanner with tracking (especially for objects that are symmetrical or lack geometric features. This way, you don't have to worry about losing track of what you're scanning, which makes the whole process faster and more predictable.
Other Sizes
AESUB Dots Retro Reflective is available in different sizes.
Please visit our AESUB Dots Retro Reflective collection page for all available sizes.